Discover more from jhandel.news
Staying in touch with friends, colleagues, clients, connections and readers. Topics range across residuals, entertainment law and labor, reviews, news, poetry&politics, gadgets and idiosyncratic content. About 1x/month or less. From Jonathan Handel.
Over 3,000 subscribers
WGA Awards Fete Slumdog, Milk, Mad Men, 30 Rock
Slumdog Millionaire continued its winning streak this awards season, with Simon Beaufoy winning the 2009 Writers Guild of America award this evening for adapted screenplay. Dustin Lance Black won the award for best original screenplay for Milk. Slumdog has already won DGA, SAG, PGA and Golden Globe awards, and is a multi-award favorite for the Oscars. Milk has won SAG and PGA awards and is also a strong Oscar contender in multiple categories.
On the television side, awards went to the writers of Mad Men (drama), 30 Rock (comedy), Recount and John Adams in long-form categories, and In Treatment, Breaking Bad, and The Simpsons in various other fields. Controversially, among other awards was one for videogame writing (to Star Wars: The Force Unleashed). Some publishers declined to submit their titles for consideration, viewing the award as primarily an organizing tool for a guild seeking to gain a foothold in a non-unionized sector.
Writers are a more subdued bunch than actors, but the WGA Awards included a red carpet. Of course, the visiting actors attracted most of the attention. (It's a tough town for writers.) Sarah Silverman provided a touch of elegance . . .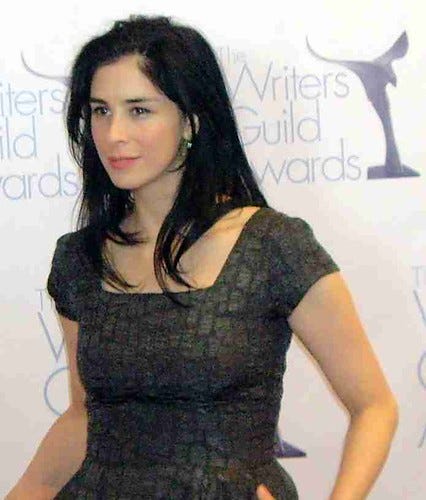 . . . and Rainn Wilson of The Office and writing partner Aaron Lee looked spiffy as well: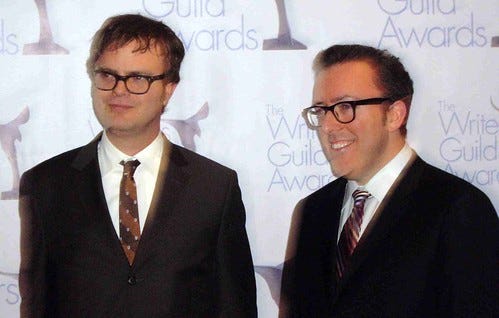 The awards ceremony was held simultaneously in Los Angeles and New York, with attendees and honorees in each city. See below for a complete list of winners.
———————
Subscribe to my blog (jhandel.com) for more about Hollywood Labor, or digital media law. Go to the blog itself to subscribe via RSS or email. Or, follow me on Twitter, friend me on Facebook, or subscribe to my Huffington Post articles.
———————
SCREEN WINNERS
ORIGINAL SCREENPLAY
Milk, Written by Dustin Lance Black, Focus Features
ADAPTED SCREENPLAY
Slumdog Millionaire, Screenplay by Simon Beaufoy, Based on the Novel Q and A by Vikas Swarup, Fox Searchlight Pictures
DOCUMENTARY SCREENPLAY
Waltz with Bashir, Written by Ari Folman, Sony Pictures Classics
TELEVISION WINNERS
DRAMATIC SERIES
Mad Men, Written by Lisa Albert, Jane Anderson, Rick Cleveland, Kater Gordon, David Isaacs, Andre Jacquemetton, Maria Jacquemetton, Marti Noxon, Robin Veith, Matthew Weiner; AMC
COMEDY SERIES
30 Rock, Written by Jack Burditt, Kay Cannon, Robert Carlock, Tina Fey, Donald Glover, Andrew Guest, Matt Hubbard, Jon Pollack, John Riggi, Tami Sagher, Ron Weiner; NBC
NEW SERIES
In Treatment, Written by Rodrigo Garcia, Bryan Goluboff, Davey Holmes, William Merritt Johnson, Amy Lippman, Sarah Treem; HBO
EPISODIC DRAMA – any length – one airing time
"Pilot" (Breaking Bad), Written by Vince Gilligan; AMC
EPISODIC COMEDY – any length – one airing time
"Succession" (30 Rock), Written by Andrew Guest & John Riggi; NBC
LONG FORM – ORIGINAL – over one hour – one or two parts, one or two airing times
Recount, Written by Danny Strong; HBO
LONG FORM – ADAPTATION – over one hour – one or two parts, one or two airing times
John Adams, "Episode 1, Join or Die," Teleplay by Kirk Ellis, Based on the book by David McCullough; "Episode 2, Independence," Teleplay by Kirk Ellis, Based on the book by David McCullough; HBO
ANIMATION – any length – one airing time
"Apocalypse Cow" (The Simpsons), Written by Jeff Westbrook; Fox
COMEDY/VARIETY – (INCLUDING TALK) SERIES
Saturday Night Live, Head Writers Seth Meyers, Andrew Steele, Paula Pell, Writers Doug Abeles, James Anderson, Alex Baze, Jessica Conrad, James Downey, Charlie Grandy, Steve Higgins, Colin Jost, Erik Kenward, Rob Klein, John Lutz, Seth Meyers, Lorne Michaels, John Mulaney, Paula Pell, Simon Rich, Marika Sawyer, Akiva Schaffer, Robert Smigel, John Solomon, Emily Spivey, Andrew Steele, Kent Sublette, Jorma Taccone, Bryan Tucker, Additional Sketches by Robert Carlock; NBC
COMEDY/VARIETY – MUSIC, AWARDS, TRIBUTES – SPECIALS
2008 Film Independent Spirit Awards, Written by Billy Kimball, Aaron Lee, Jennifer Celotta, Rainn Wilson; IFC/AMC
DAYTIME SERIALS
As the World Turns, Written by Jean Passanante, Leah Laiman, Courtney Simon, Lisa Connor, David A. Levinson, Peter Brash, Richard Culliton, Susan Dansby, Cheryl Davis, Leslie Nipkow; CBS
CHILDREN'S EPISODIC & SPECIALS
"Elmo's Christmas Countdown" (Sesame Workshop), Written by Joey Mazzarino; ABC
CHILDREN'S SCRIPT – LONG FORM OR SPECIAL
"Polar Bears" (The Naked Brothers Band), Written by Polly Draper; Nickelodeon
DOCUMENTARY – CURRENT EVENTS
"Bush's War: Part One" (Frontline), Written by Michael Kirk; PBS
DOCUMENTARY – OTHER THAN CURRENT EVENTS
"Secrets of the Parthenon" (NOVA), Written by Gary Glassman; PBS
NEWS – REGULARLY SCHEDULED, BULLETIN, OR BREAKING REPORT
ABC Weekend News, Written by Joel Siegel, Karen Mooney, David Muir; ABC
NEWS – ANALYSIS, FEATURE, OR COMMENTARY
"Yankee Stadium and the New Gilded Age" (Bill Moyers Journal), Writers Bill Moyers & Michael Winship; PBS
RADIO WINNERS
DOCUMENTARY
Black History Month, Written by Anthony J. McHugh; CBS
NEWS – REGULARLY SCHEDULED OR BREAKING
World News This Week, Written by Marianne J. Pryor; ABC
NEWS – ANALYSIS, FEATURE, OR COMMENTARY
Tributes, Written by Gail Lee; CBS
PROMOTIONAL WRITING AND GRAPHIC ART WINNERS
ON-AIR PROMOTION (RADIO OR TELEVISION)
Jericho: Two-Minute Drills, Written by Eric Jacobson; CBS
TELEVISION GRAPHIC ANIMATION
"Medical Animations" (CBS Evening News), David Rosen; CBS
VIDEOGAME WINNERS
VIDEOGAME WRITING
Star Wars: The Force Unleashed, Writers Haden Blackman, Shawn Pitman, John Stafford and Cameron Suey, LucasArts
Neil Patrick Harris (How I Met Your Mother) hosted the West Coast show, which was executive produced by Emmy Award-winning producer Cort Casady. Presenters scheduled to appear at the Los Angeles show included: Josh Brolin, Steve Carell, Frank Langella, Jon Hamm, Kate Walsh, Alfre Woodard, Sarah Silverman, Evan Rachel Wood, Bryan Cranston, Julia Louis-Dreyfus, Sandra Oh, Dennis Haysbert, Taraji P. Henson, Zach Braff, Jamie Lee Curtis, David Krumholtz, Rob Reiner, and Garry Marshall.
John Oliver of The Daily Show with Jon Stewart hosted the East Coast show. The event was produced by Anne Marie Gaynor, supervised by Marsha Manns, and produced under the creative supervision of head writer David Steven Cohen. Presenters scheduled to appear at the show in New York included: Philip Seymour Hoffman, Talia Balsam, Shari Springer Berman and Robert Pulcini, Marshall Brickman, Christopher Cerf, Alana De La Garza, Susie Essman, Tom Fontana, Judah Friedlander, Terry George, Nancy Giles, Gilbert Gottfried, Bill Irwin, Jack McBrayer, S. Epatha Merkerson, Aasif Mandvi, Ana Ortiz, Linus Roache, John Slattery, Jerry Stiller and Anne Meara, Paul F. Tompkins, Jerry verDorn, and Sam Waterston. Musical entertainment during the ceremony was provided by La Bamba and the Hubcabs. Also in attendance were: Tina Fey, Ethan Coen, Joel Coen, Robert Siegel, David Simon, and Simon Beaufoy.
The Writers Guild of America, West presented special honors to: William Blinn – Paddy Chayefsky Laurel Award for Television; Dustin Lance Black (Milk) – Paul Selvin Award; Carl Reiner and Victoria Riskin – Valentine Davies Award; Larry DiTillio – Morgan Cox Award; and Suso D'Amico for the WGAW's first-ever Jean Renoir Award for Screenwriting Achievement.
The Writers Guild of America, East presented special honors to: John Patrick Shanley - Ian McLellan Hunter Lifetime Achievement Award; Norman Stiles – Herb Sargent Award for Comedy Excellence; The Committee To Protect Journalists accepted by Board Chairman Paul Steiger and Executive Director Joel Simon – Evelyn F. Burkey Award for contributions bringing honor and dignity to writers everywhere; Chris Albers and Tom Fontana - Jablow Award for devoted service to the Guild; and Sarah Tobianski - John Merriman Award for Study of Broadcast Journalism at American University. In addition, the Writers Guild of America, East Foundation presented the first Michael Collyer Memorial Fellowship in Screenwriting to Sara Van Acker of New York University.