Discover more from jhandel.news
Staying in touch with friends, colleagues, clients, connections and readers. Topics range across residuals, entertainment law and labor, reviews, news, poetry&politics, gadgets and idiosyncratic content. About 1x/month or less. From Jonathan Handel.
Over 3,000 subscribers
SAG Awards: Impressions from the Red Carpet
The SAG Awards sparkled. Women in beautiful dresses, perfectly accessorized; men crisply attired in suits or tuxes; and flash cameras and video everywhere—it was quite a scene. There was drama …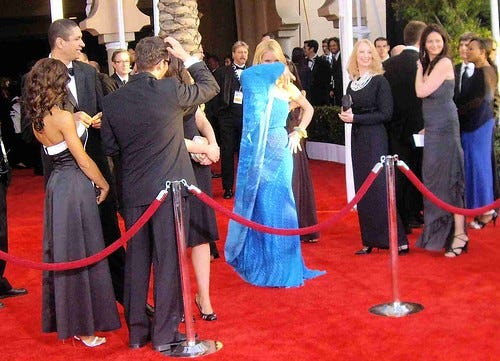 … and romance: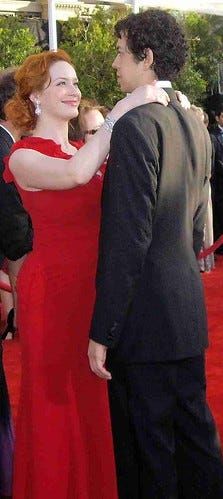 Boldface names made their way down the red carpet: the bolder the name, the faster they moved. Oops, there went Brad Pitt (Benjamin Button). Too late. But Alec Baldwin (30 Rock) did pause for a moment: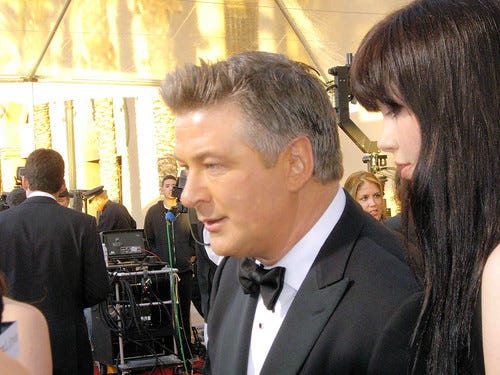 He picked up an award later that evening for male actor in a comedy series. Meanwhile, the unofficial award for cutest kids went to the ones playing adman Don Draper's children in Mad Men. Kiernan Shipka looks sweet …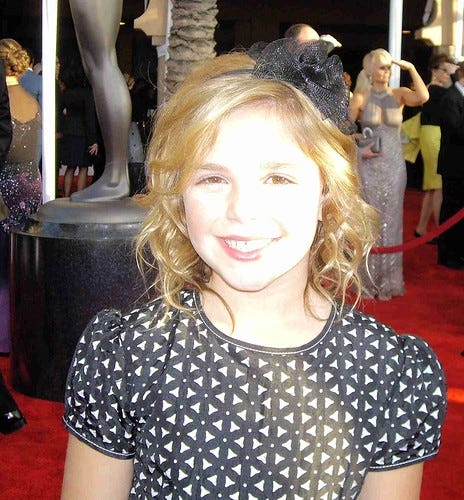 … but advised me that if she won an award (she did, as part of an ensemble), it would go next to her Tae Kwon Do trophies. Easy there tiger! Meanwhile, her cast-mate and fellow winner Aaron Hart is a handsome little fellow …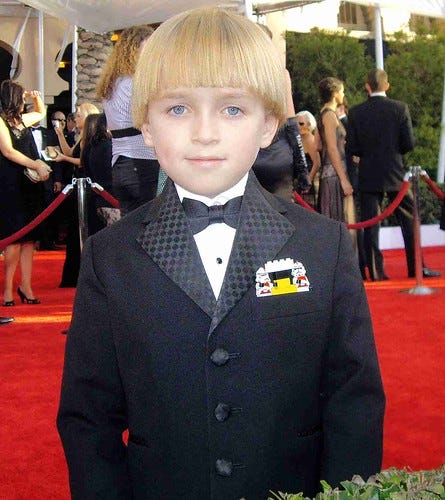 … but he hasn't let success go to his towhead: when I asked what actors he admires, he said he doesn't want to be an actor when he grows up. He didn't offer an alternative though, so maybe he'll reconsider. Other sightings on the red carpet included Maulik Pancholy (30 Rock & Weeds), who won an award as part of the 30 Rock ensemble: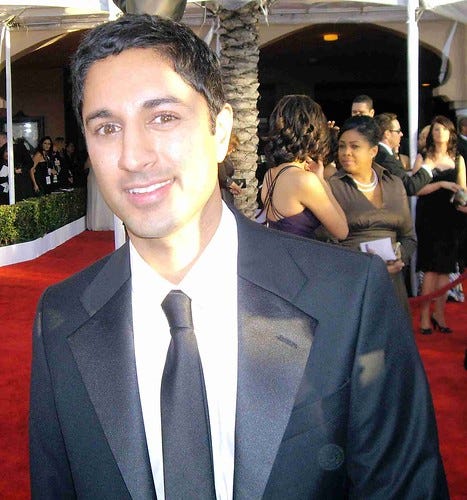 ...Charles Carver & Max Carver (Desperate Housewives):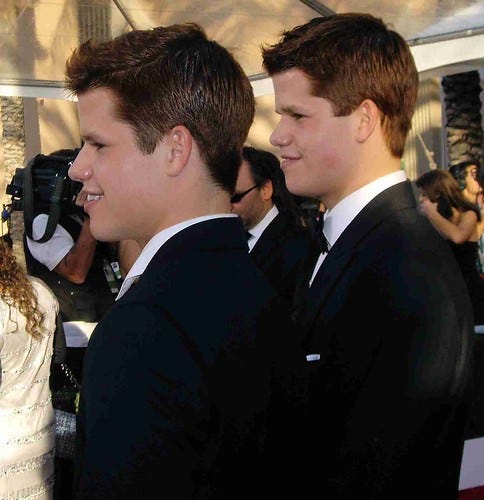 ... and several Dexter cast members: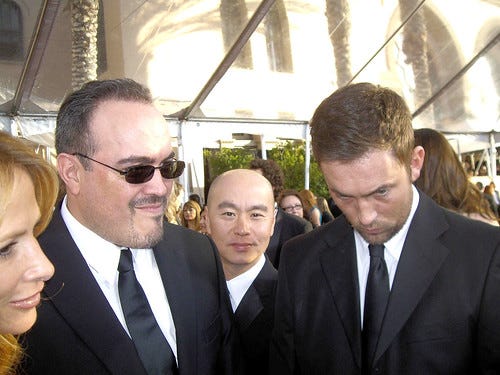 Finally, we swept ourselves off the red carpet and into the depths of the Shrine Auditorium. The awards show began, and proved early on that it would move at a brisk clip. House's Hugh Laurie had one of the best lines of night, commenting that he "actually had $100 on [fellow nominee] James Spader. This is just not my night." But, of course, it was his night, and many other winners' and nominees' as well. Among the winners was a happy Laura Linney: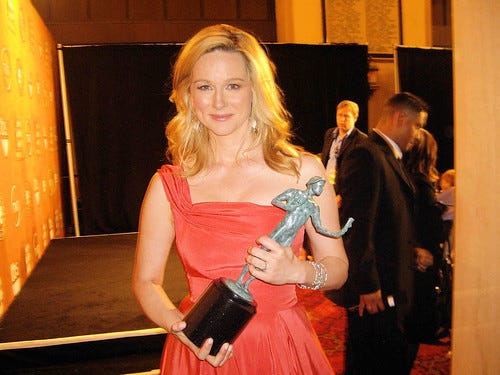 SAG politics weren't completely absent from the festivities, of course. Alec Baldwin and Sally Field both took home statues, despite being targets of a blacklist aimed at nominees who opposed the union's position on a strike authorization. Field may have had this in mind during her acceptance speech, since she made a point to mention her 45 years as an actor, her stepfather's and mother's careers as actors, and, indeed, her stepfather's service on the SAG board back when Ronald Reagan was president (of the Guild, not of the country).
SAG's current president, Alan Rosenberg, touched on union politics too—but not SAG politics—saying that "We look forward to the day when all workers have a free choice to join a union." That's an allusion to the Employee Free Choice Act—proposed legislation that would make it easier to unionize.
At the end of the ceremony came the big awards, for motion picture cast (Slumdog Millionaire):

... male lead, Sean Penn (Milk), who looked like he wished he were somewhere else: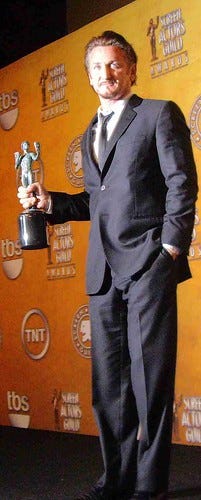 ... and female lead, Meryl Streep (Doubt), who chatted on the phone with someone who was somewhere else: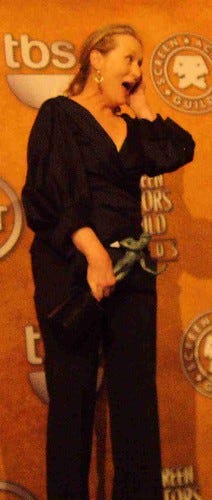 The evening ended with the obligatory after-party. Notables seen amid the crush included Alec Baldwin, Anthony Hopkins, and SAG National Executive Director Doug Allen.
———————–
Subscribe to my blog (jhandel.com) for more about SAG, or digital media law generally. Go to the blog itself to subscribe via RSS or email. Or, follow me on Twitter, friend me on Facebook, or subscribe to my Huffington Post articles.
———————–
15th ANNUAL SCREEN ACTORS GUILD AWARDS® RECIPIENTS
THEATRICAL MOTION PICTURES
Outstanding Performance by a Male Actor in a Leading Role

SEAN PENN Harvey Milk "MILK" Focus Features

Outstanding Performance by a Female Actor in a Leading Role

MERYL STREEP Sister Aloysius Beauvier "DOUBT" Miramax Films

Outstanding Performance by a Male Actor in a Supporting Role

HEATH LEDGER Joker "THE DARK KNIGHT" Warner Bros. Pictures

Outstanding Performance by a Female Actor in a Supporting Role

KATE WINSLET Hanna Schmitz "THE READER" The Weinstein Company

Outstanding Performance by the Cast of a Motion Picture

"SLUMDOG MILLIONAIRE" Fox Searchlight Pictures

RUBINA ALI Youngest Latika
TANAY HEMANT CHHEDA Middle Jamal
ASHUTOSH LOBO GAJIWALA Middle Salim
AZHARUDDIN MOHAMMED ISMAIL Youngest Salim
ANIL KAPOOR Prem
IRRFAN KHAN Police Inspector
AYUSH MAHESH KHEDEKAR Youngest Jamal
TANVI GANESH LONKAR Middle Latika
MADHUR MITTAL Oldest Salim
DEV PATEL Older Jamal
FREIDA PINTO Older Latika


PRIMETIME TELEVISION
Outstanding Performance by a Male Actor in a Television Movie or Miniseries

PAUL GIAMATTI John Adams "JOHN ADAMS" HBO

Outstanding Performance by a Female Actor in a Television Movie or Miniseries

LAURA LINNEY Abigail Adams "JOHN ADAMS" HBO

Outstanding Performance by a Male Actor in a Drama Series

HUGH LAURIE Gregory House "HOUSE" FOX

Outstanding Performance by a Female Actor in a Drama Series

SALLY FIELD Nora Walker "BROTHERS & SISTERS" ABC

Outstanding Performance by a Male Actor in a Comedy Series

ALEC BALDWIN Jack Donaghy "30 ROCK" NBC

Outstanding Performance by a Female Actor in a Comedy Series

TINA FEY Liz Lemon "30 ROCK" NBC

Outstanding Performance by an Ensemble in a Drama Series

"MAD MEN " AMC

BRYAN BATT Salvatore Romano
ALISON BRIE Trudy Campbell
MICHAEL GLADIS Paul Kinsey
JON HAMM Don Draper
CHRISTINA HENDRICKS Joan Holloway
JANUARY JONES Betty Draper
VINCENT KARTHEISER Pete Campbell
MARK MOSES Herman "Duck" Phillips
ELISABETH MOSS Peggy Olson
JOHN SLATTERY Roger Sterling
RICH SOMMER Harry Crane
AARON STATON Ken Cosgrove

Outstanding Performance by an Ensemble in a Comedy Series

"30 ROCK" NBC

SCOTT ADSIT Pete Hornberger
ALEC BALDWIN Jack Donaghy
KATRINA BOWDEN Cerie
TINA FEY Liz Lemon
JUDAH FRIEDLANDER Frank Rossitano
JANE KRAKOWSKI Jenna Maroney
JACK McBRAYER Kenneth Parcell
TRACY MORGAN Tracy Jordan
MAULIK PANCHOLY Jonathan
KEITH POWELL Toofer
SAG HONORS FOR STUNT ENSEMBLES
Outstanding Performance by a Stunt Ensemble in a Motion Picture

"THE DARK KNIGHT" (Warner Bros. Pictures)

WADE ALLEN
RICK AVERY
DEAN BAILEY
RICHARD BURDEN
FRANK CALZAVARA
MARK CHADWICK
BRIAN CHRISTENSEN
GEORGE COTTLE
TOBIASZ DASKIEWICZ
JUSTO DIEGUEZ
MARIE FINK
JEAN-PIERRE GOY
MARK HARPER
ADAM HART
JAMES HEISNER
SY HOLLANDS
TERRY JACKSON
PAUL JENNINGS
LUKE KEARNEY
MATT LeFEVOUR
RICK LeFEVOUR
TOM LOWELL
TONY LUCKEN
DANIEL MALDONADO
JON MALDONADO
JAMES MAMMOSER
KEVIN MATHEWS
TOM McCOMAS
TIM McHENRY
NATALIE M. MEYER
RICK MILLER
MARK MOTTRAM
CHRIS NOLTE
ANDY NORMAN
CARL PAOLI
LINDA PERLIN
BRIAN PETERS
SCOTT PHILYAW
BUSTER REEVES
KEN REMER
RICHARD RYAN
JEFF SHANNON
KEVIN SORENSEN
JODI STARNES
TOM STRUTHERS
TODD ROGERS TERRY
JIM WILKEY
RICH WILKIE

Outstanding Performance by a Stunt Ensemble in a Television Series

"HEROES" (NBC)

ROBERT ALONZO
HEATHER ARTHUR
ALLISON CAETANO
CHRIS CARNEL
DANE FARWELL
TIM GILBERT
TROY GILBERT
RYAN JAMES HAPPY
CHRIS HOWELL
HORACE KNIGHT
WILL LEONG
JIM LEWIS
RICK MARCUS
AUSTIN PRIESTER
SIMON RHEE
MARK RICCARDI
PAT ROMANO
SPIKE SILVER
LEE SMITH
ERIK STABENAU
NANCY THURSTON
XUYEN "SAMMY" VALDIVIA
MARK WAGNER
MARCUS YOUNG



Screen Actors Guild Awards 45th Annual Life Achievement Award

James Earl Jones