Donald in Wonderland
My play "Trump - the Musical!" may never see the boards, but I'll be offering a taste of it over the next few weeks.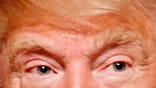 SWAMPY WONDERLAND FOREST (DREAM SEQUENCE).
The stage is dark. A swirling spot snaps on.
ANCHOR (O.S.)
Donald Trump! President! I feel like I've fallen down a rabbit-hole.
SFX: bumping and whooshing sounds, then a heavy thud.
ANCHOR (O.S.)
Oh! Ouch!
Lights up. The television Anchor enters, dressed as the classic 1865 Alice, and wanders along a marshy path. By and by, the path splits at a fork. On a SIGNPOST: "Marsh-a-Lago" and two arrows, one pointed left that reads "Mad Hatter" and a rightward one that says "Melania Hare."
ANCHOR-ALICE
Oh dear! Which way am I to go? Mad Hatter? Melania Hare? Both paths lead to Marsh-a-Lago. I wonder what that is?
SFX: a whiny, drawn-out MEOW. A SPOT snaps on: up in a ragged banyan tree sits an orange tabby CAT - Trump, of course - frowning.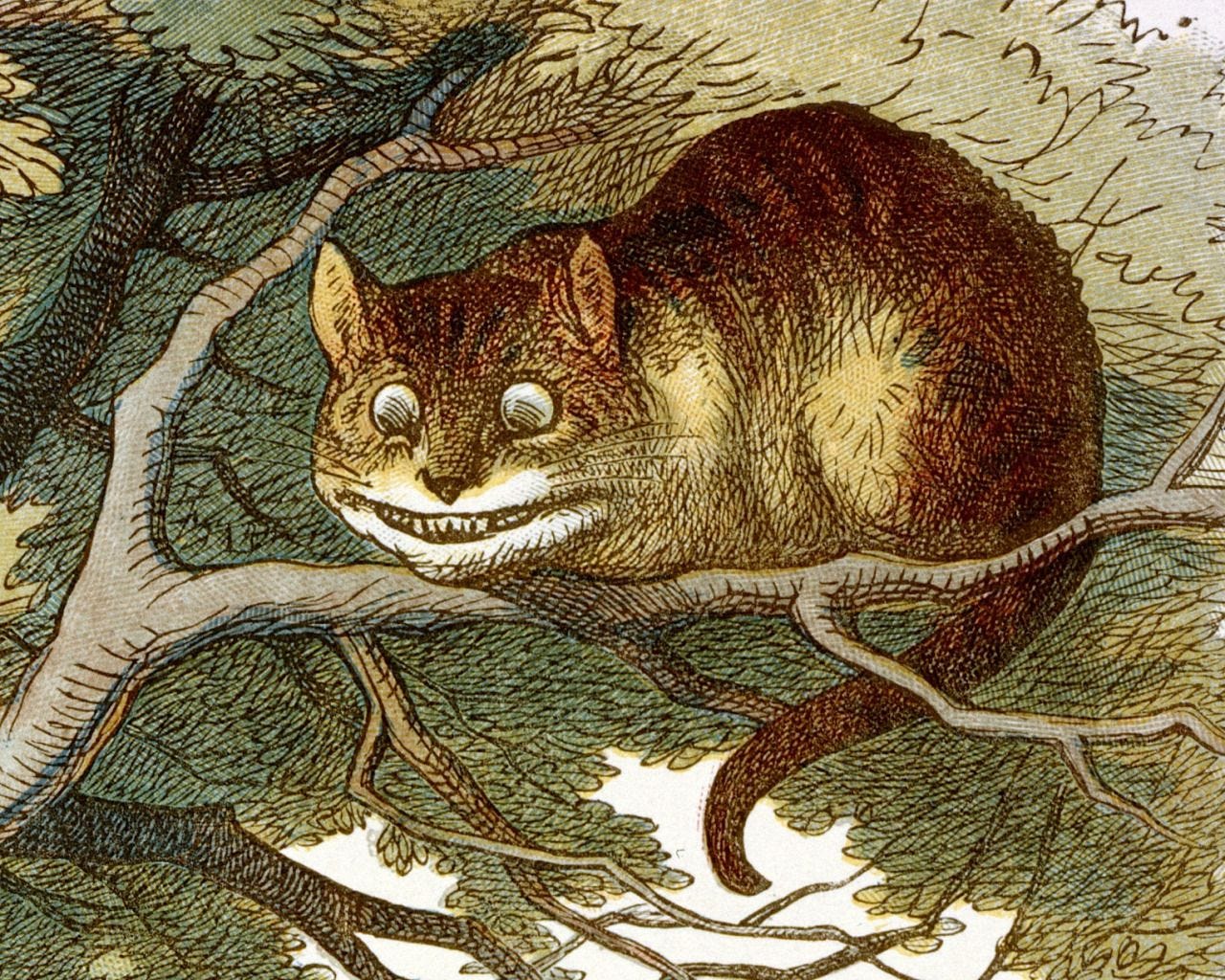 ANCHOR-ALICE
Dear puss -
CAT
(sternly)
Mr. Puss!
ANCHOR-ALICE
(simpering)
Mr. Puss ... what a handsome cat you are.
The Cat, still frowning, preens.
CAT
You're doing better.
The Cat licks its paw, then grooms the fur on top of its head into a pouf.
ANCHOR-ALICE
Such unusual fur. Is it natural?
CAT
(haughtily)
Of course. As everybody knows, but the haters and losers refuse to acknowledge, I do not wear a wig. My fur may not be perfect but it's mine.
He glares at her.
CAT
You're a white girl, aren't you?
ANCHOR-ALICE
Yes, of course. [Note: regardless of the player's race]
CAT
Then you should be making more sense. Do you know anything? Do you know what kind of cat I am?
ANCHOR-ALICE
(hesitantly)
You were whiny ... like a Siamese, I think?
CAT
A Chinese!?! Certainly not. I could slap a tariff on you for such a remark.
He extends a paw in her direction and makes a whiny growl. Anchor-Alice steps back.
ANCHOR-ALICE
You're fierce. You must be a lion!
CAT
(perking up)
You're right, I'm always a-lyin'. Always have been. I wouldn't tell the truth for all the catnip in the world.
ANCHOR-ALICE
No, I meant a lion, from Africa.
CAT
Wrong again! You think I'm from one of those litterbox countries?
ANCHOR-ALICE
Well, no, I didn't mean that.
CAT
Then say what you mean and mean what you say. I'm an American Cat. Born and raised on Queensboro Alley. But I spent a lot of time in Manhattan.
ANCHOR-ALICE
I'm terribly sorry.
CAT
And well you should be. Do you know anything else? Any facts? They needn't be true ones.
ANCHOR-ALICE
(cautiously)
Well, I recognize the tree you're sitting in.
CAT
Go on.
ANCHOR-ALICE
It's a banyan tree.
The Cat brightens.
CAT
Quite right. It is indeed a Bannon tree. A Steve Bannon tree, to be exact. You can tell by the sickly pallor and scaly bark.
He claws furiously at the tree trunk until pieces of bark fall to the ground like scabs.
ANCHOR-ALICE
Are they native to this swamp?
CAT
Yes. Although when you call this a swamp, I could show you a swamp in Washington compared to which this is a desert.
ANCHOR-ALICE
Oh, I can't believe that.
CAT
Can't you?
ANCHOR-ALICE
No. A swamp isn't a desert. One can't believe impossible things.
CAT
I dare say you haven't had much practice. When I was your age I could believe six impossible things before breakfast. And now I can tweet them as well!
ANCHOR-ALICE
That must be awkward.
The Cat glares.
CAT
Mind your manners.
ANCHOR-ALICE
With paws, I mean.
CAT
"With such big paws," you mean.
(beat)
Have you been to school?
ANCHOR-ALICE
Oh, yes! A very good one.
CAT
So have I. You needn't be proud about it.
ANCHOR-ALICE
What was your major?
CAT
I studied Arithmetic, under the great Professor Roy Conehead.
ANCHOR-ALICE
Was it practical?
CAT
Very. He taught us all four branches: ambition, distraction, uglification and derision.
ANCHOR-ALICE
How unusual.
CAT
I excelled at long derision, of course. Then we moved on to imaginary numbers and I felt right at home.
(half-beat)
But how can I help you, child? You must have a question for me. Your kind always do.
ANCHOR-ALICE
Yes.
She gestures at the signpost.
ANCHOR-ALICE
Which way am I to go?
CAT
(dismissively)
I can't imagine I care.
The Cat's spot begins to narrow to encompass only his FACE.
CAT
And it doesn't matter anyway. They're all mad at Marsh-a-Lago, whichever way you go.
Nothing of the Cat remains spotlighted now except its FROWN.
ANCHOR-ALICE
Curiouser and curiouser. I've often seen a cat without a frown, but never a frown without a cat.
The spot fades to black.
ANCHOR-ALICE
Maybe I should turn back. I don't want to be around crazy people.
The frown reappears.
CAT
It can't be helped. You're in Trumpland now.
The frown fades away again.
Anchor-Alice contemplates the signpost.
ANCHOR-ALICE
But which way?
(beat)
I'll stick with my left-wing bias.
Off she goes to the left, towards the Mad Hatter.
MARSH-A-LAGO. CONTINUOUS.
Barring the path is a velvet rope presided over by a haughty maitre'd who ignores the line of ordinary types hoping in vain to be admitted. Beyond is a clearing in the forest and a couple dozen tables, bustling with diners and waiters. Anchor-Alice hesitates, then catches the eye of the maitre'd.
ANCHOR-ALICE
I'm here to see the Mad Hatter.
The maitre'd trembles, then ushers her in.
ANCHOR-ALICE
But how will I ever find him?
She hears a loud, maniacal GIGGLE.
ANCHOR-ALICE
There he is!
She makes her way over and finds the MAD HATTER (Trump), flanked by IVANKA, the MELANIA HARE and a WHITE TIGER.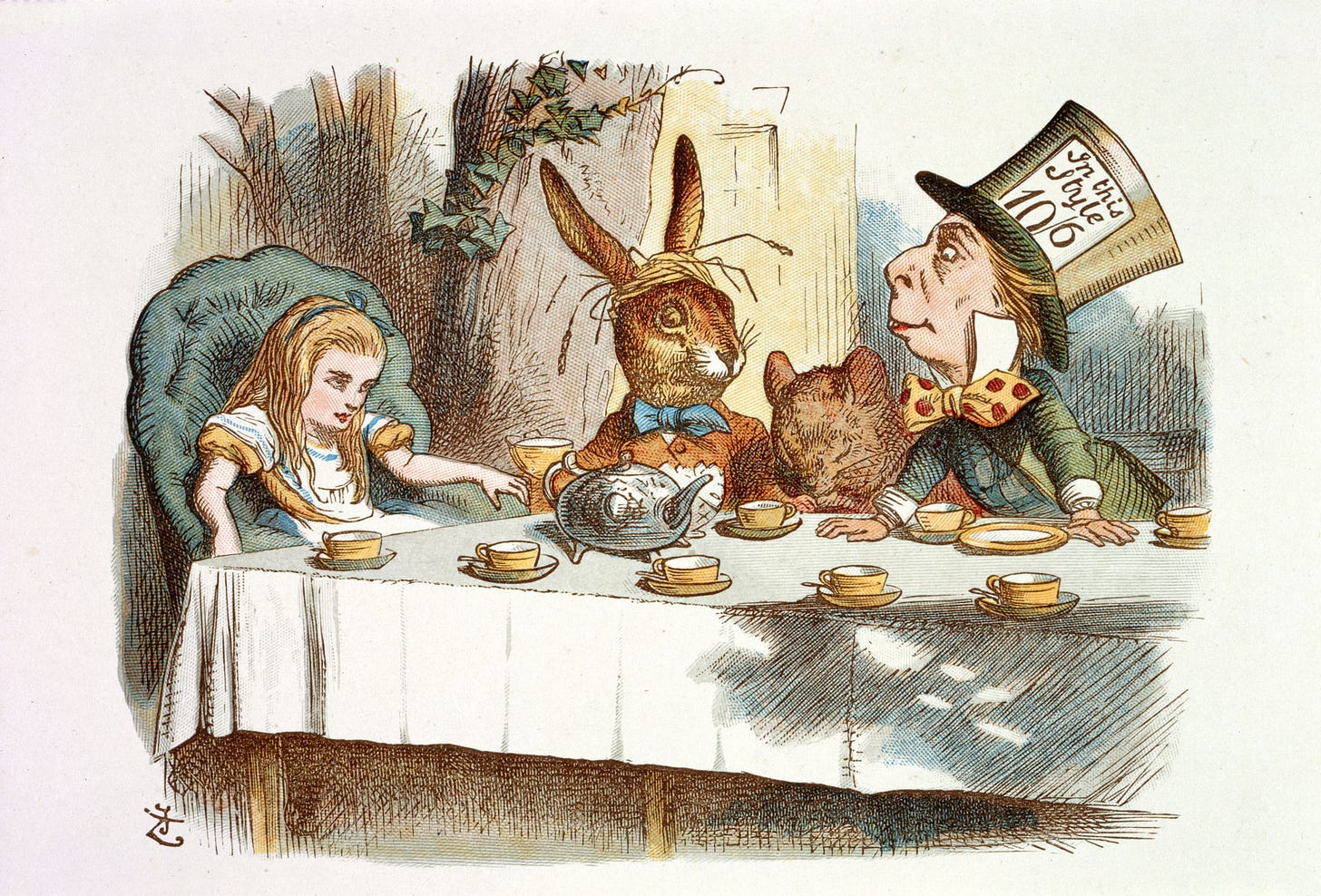 MAD HATTER
Welcome. I hope you didn't have to wait long?
He's wearing a Make America Great Again hat bearing a tag that says "In This Style - $25."
ANCHOR-ALICE
I breezed right in, past a line of, well, downscale …
MAD HATTER
Losers. That's what they are.
(giggling)
That's why we call that queue "anon." They're just anonymous nobodies.
Anchor-Alice looks around.
ANCHOR-ALICE
Such a beautiful club.
MAD HATTER
It was founded in 1488. Can you believe that?
ANCHOR-ALICE
No, not at all.
MAD HATTER
Maybe it just feels that way. And now you're a member.
ANCHOR-ALICE
Why, thank you!
MAD HATTER
Do you want to pay the million dollar initiation fee today or tomorrow?
ANCHOR-ALICE
Oh, dear! Tomorrow, please.
MAD HATTER
(giggling)
A smart choice. It's always today here. Tomorrow never comes.
ANCHOR-ALICE
But that's impossible.
MAD HATTER
Not at all. By the time it's tomorrow, it's today again, and they've forgotten about yesterday altogether.
ANCHOR-ALICE
What an odd sort of place.
MAD HATTER
It's just the news cycle. But if you're not paying today, you must sing for your supper. How are you at nursery rhymes?
ANCHOR-ALICE
I'm not sure I recall any.
MAD HATTER
(giggling)
I've never outgrown them. Try "Twinkle, Twinkle."
ANCHOR-ALICE
(dubiously)
I'll try.
She sings hesitantly.
"TWINKLE, TWINKLE"
TWINKLE, TWINKLE REALITY STAR
HOW I WONDER WHY YOU ARE
IN AMONG THE MEDIA SCRUM
BLATHERING ON IN A CONSTANT HUM.
TWINKLE, TWINKLE ORANGE CHEETO
ON AND ON AND ON YOU GO
SHOWING OFF YOUR SPRAY ON TAN
I FOR ONE AM NOT A FAN.
TWINKLE, TWINKLE FADING STAR
NOW I SEE THAT YOU ARE
IN AMONG THE MEDIA FRAY
SEEKING OTHER ROLES TO PLAY.
TWINKLE, TWINKLE ...
That's not quite right, I'm afraid.
MAD HATTER
(giggling)
It's wrong from beginning to end!
An awkward silence, then Anchor-Alice notices a uniformed man standing behind the Hatter holding a PURSE.
ANCHOR-ALICE
Who's that?
MAD HATTER
That's Rick, my aide de camp. He's always with me, and carries the nuclear codes.
RICK smiles and jiggles his handbag.
ANCHOR-ALICE
In a purse? I thought he was supposed to have a briefcase.
MAD HATTER
We've made a few changes.
RICK
Would you like a selfie?
He impishly snaps the purse open and closed.
ANCHOR-ALICE
No, thank you.
IVANKA
And we've increased our profit margins. All the military carry Ivanka purses now.
The purse is covered with "IVANKA" logos.
ANCHOR-ALICE
Isn't that a conflict of interest?
MAD HATTER
No such thing.
IVANKA
The hardware's guaranteed for life. Except in the event of a nuclear holocaust.
MAD HATTER
(giggling)
That's the worst kind.
Ivanka glares.
IVANKA
Daddy!
MAD HATTER
Second worst perhaps.
SFX: a playful growl. Anchor-Alice looks over at the WHITE TIGER.
ANCHOR-ALICE
Who is this tiger?
MAD HATTER
He's white power. Allegorically, of course.
SFX: a ferocious roar. Anchor-Alice cowers.
MAD HATTER
(giggling again)
Isn't he wonderful? Such good people. So white!
Ivanka reaches over, lifts off the tiger's HEAD, revealing an ordinary-looking white man.
MAD HATTER
And you see, underneath the costumes, white supremacists look just like you and me. They're just white!
(giggling madly)
White, white, white!
He sings as if on nitrous.
"WHITE, WHITE, WHITE"
WHITE, WHITE, WHITE, WHITE!
COOL WHITE, WARM WHITE,
BRIGHT WHITE, DAYLIGHT!
WHITE, WHITE, WHITE!
CHALKY WHITE, MILKY WHITE
EVERYTHING THAT'S NICE AND BRIGHT!
OFF-WHITE, CREAMY WHITE
WHITE, WHITE, WHITE!
NEON WHITE, HARSH LIGHT
WHITE'S THE COLOR THAT SAYS YOU'RE BRIGHT!
WHITE CAN BRIGHTEN UP THE NIGHT
WHITE, WHITE, WHITE!
SNOW WHITE, DUTCH WHITE
NAZI CAMP KLIEG LIGHTS
GHOSTLY WHITE IN THE NIGHT.
WHITE, WHITE, WHITE!
CLOUDY WHITE, POWDER WHITE
IVORY IS TWICE AS BRIGHT.
LILY WHITE IS ALWAYS RIGHT!
WHITE, WHITE, WHITE!
ONE FISH, TWO FISH
WHITEFISH, NEW FISH
WHITE, WHITE, WHITE!
(to the point of delirium)
WHITE, WHITE, WHITE!
WHITE, WHITE, WHITE!
WHITE, WHITE, WHITE!
This goes on until the Melania Hare SLAPS the Hatter across the face. She grabs his hat, hands him a suit jacket from offstage, and all players except Trump exit as we ...